These are forged steel pieces. Various sizes and designs can be made with the Thor hammers and your choice of rune can be added at no extra cost. These are $25. The hammers depicted below are slightly larger and are $30 while the skulls are $25: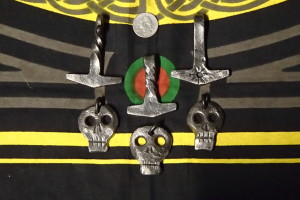 The double spiral is a traditional symbol for An Dagdha in Celtic tradition.
Axes are…well…axes. You chop things with them, whether it be wood or your enemies.