Okay, I guess this is the place where I have to talk about me. I'll try not to be too long winded.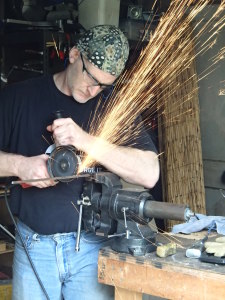 Ummm…I'm a blacksmith. I like to hit hot steel with a hammer. And I cut stuff with an angle grinder and make pretty sparks as you can see above.
I am also a computer chip designer. Basically, I draw colored rectangles on a computer screen all day. Which is nice, but not nearly as fun as getting to play at my anvil, so let's talk more about that.
At first I was not really interested in blacksmithing. I just wanted to learn how to weld, which is also a lot of fun, and enables you to make all kinds of things. Like the forge I use: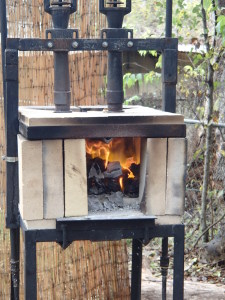 This is forge number 2, actually.  A few new bells and whistles; like a sliding rack in the front, more room than before and a more secure way to hold the rear bricks in place. Much of it is constructed from discarded bed frames. A material I came to find out is extremely hard to drill, but well suited for this purpose.
After my first time experimenting at the forge and seeing what can be done I realized what an astounding creative outlet this is. It was weird how I felt an instant connection with this craft. Strangely comfortable and fulfilling. Then other things started falling into place, and I realized there is more to this for me than just banging away at hot metal. We can discuss this on the side if you are interested.
It is great how I get my best ideas from people who have something in mind they want made that I never thought of trying. It challenges my abilities and leads to all manner of experimentation and learning. Sometimes it can be frustrating, but I usually end up with something positive coming out of it.